When the world lost Robin Williams, we lost one of the greatest performers of all time. Let's look at his best film performances, ranked.
Robin Williams was the type of performer that only comes around once in a lifetime. Not only was he a brilliant stand-up comedian, he was also a very gifted actor. He was able to completely embody his characters, while being entertaining every moment that he was on-screen. Moreover, not only was he a gifted comedic actor, he was also able to dominate his dramatic roles as well. We saw in One Hour Photo, that Williams was even capable of playing a sadistic villain. What's more, Williams earned an Academy Award for his performance in Good Will Hunting, proving that he was one of the best in the business. He has also contributed his voice talents to many iconic voice-over roles.
Williams was born in Chicago, Illinois in 1951 and was interested in comedy from a very young age. He dropped out of Claremont Men's College to pursue an acting career. He went on to study theater and eventually earned a scholarship to Julliard, where he became good friends with once-Superman actor Christopher Reeves. After Juilliard, Williams started his stand-up career in California and eventually earned his break-out role on the television series Mork And Mindy. After the success of the show, Williams had a long and successful career as an actor until his tragic death in 2014. He left behind quite a legacy. Let's look at Robin Williams' best performances, ranked.
9

What Dreams May Come
Robin Williams explores the afterlife in the dramatic, visual film, What Dreams May Come. Williams gives a strong performance as a father dealing with the loss of his children. Then, after his own death, he travels through the many levels of the afterlife, including the gates of Hell. Williams' dramatic range is on-point in this film, and he is able to capture feelings of dread, love, and joy throughout his epic journey.
8

Insomnia
In Christopher Nolan's Insomnia, Robin Williams plays Walter Finch, a killer who begins to stalk and manipulate a detective (Al Pacino) during a murder investigation. This is once again another achievement in William's dramatic acting. He gives a gritty, cold performance while showing so much through his physicality and emotion. He completely embodies the character of Finch, and we are given one of his best dramatic performances to date.
7

The Birdcage
In The Birdcage, nightclub owner Armand (Robin Williams) and his partner Albert (Nathan Lane) put up a front to impress their conservative future in-laws. Williams gives a brilliant comedic performance filled with great physicality. At the same time, his chemistry with Lane is on-point, and they created one of the most iconic couples in film history. Williams delivers several memorable lines that will certainly have you laughing.
6

Mrs. Doubtfire
Everybody knows the classic story of Mrs. Doubtfire. Robin Williams plays a loving dad determined to spend time with his children after his divorce. To do this, he transforms into an older woman who takes a job as the children's nanny. Williams gives one of his best performances of his career, as he completely embodies the character of Mrs. Doubtfire. His physicality is perfect, and he delivers several memorable lines. At the same time, Williams has several loving and dramatic moments with his children throughout the film.
5

Aladdin
Not only is Robin Williams' voice-over role in Aladdin iconic, it is one of the greatest voice performances in film history. Williams gives so much to his role as Genie. He has such high energy and range in his voice, and he also delivers some great impressions along the way. The movie is proof of Williams' sheer capabilities as a performer, and it was amazing so see how much he could do through just his voice. Audiences fell in love with Genie, and we were given one of the most memorable Disney characters ever.
4

World's Greatest Dad
World's Greatest Dad was one of Robin Williams' later films. It is filled with a good blend of comedy and drama. Williams plays a struggling writer who begins to gain fame after the unexpected death of his son. In one particular scene, where Williams discovers that his son has died, he gives one of the greatest dramatic moments of his career. With that said, most of the film is a comedy, and Williams completely delivers, proving that he still had the goods later in his life.
3

Dead Poets Society
Robin Williams portrays the joy and importance of teaching in the classic film, Dead Poets Society. Williams plays a teacher at a prestigious prep school who inspires his students to seize the day and stand up to authority. His performance is inspiring, while still delivering comedic moments along the way. For anybody who enjoys coming-of-age films, this is a must-see. Williams went on to be nominated for an Academy Award for his performance.
2

One Hour Photo
Robin Williams gives the most chilling performance of his career in One Hour Photo. He plays a disturbed photo developer named Sy who becomes obsessed with a family, taking copies of their photos to put around his house. This film, once again, proved Williams' capabilities as a dramatic actor. He is downright scary as the obsessive Sy, and he also portrays the effects that childhood abuse can have on an individual.
1

Good Will Hunting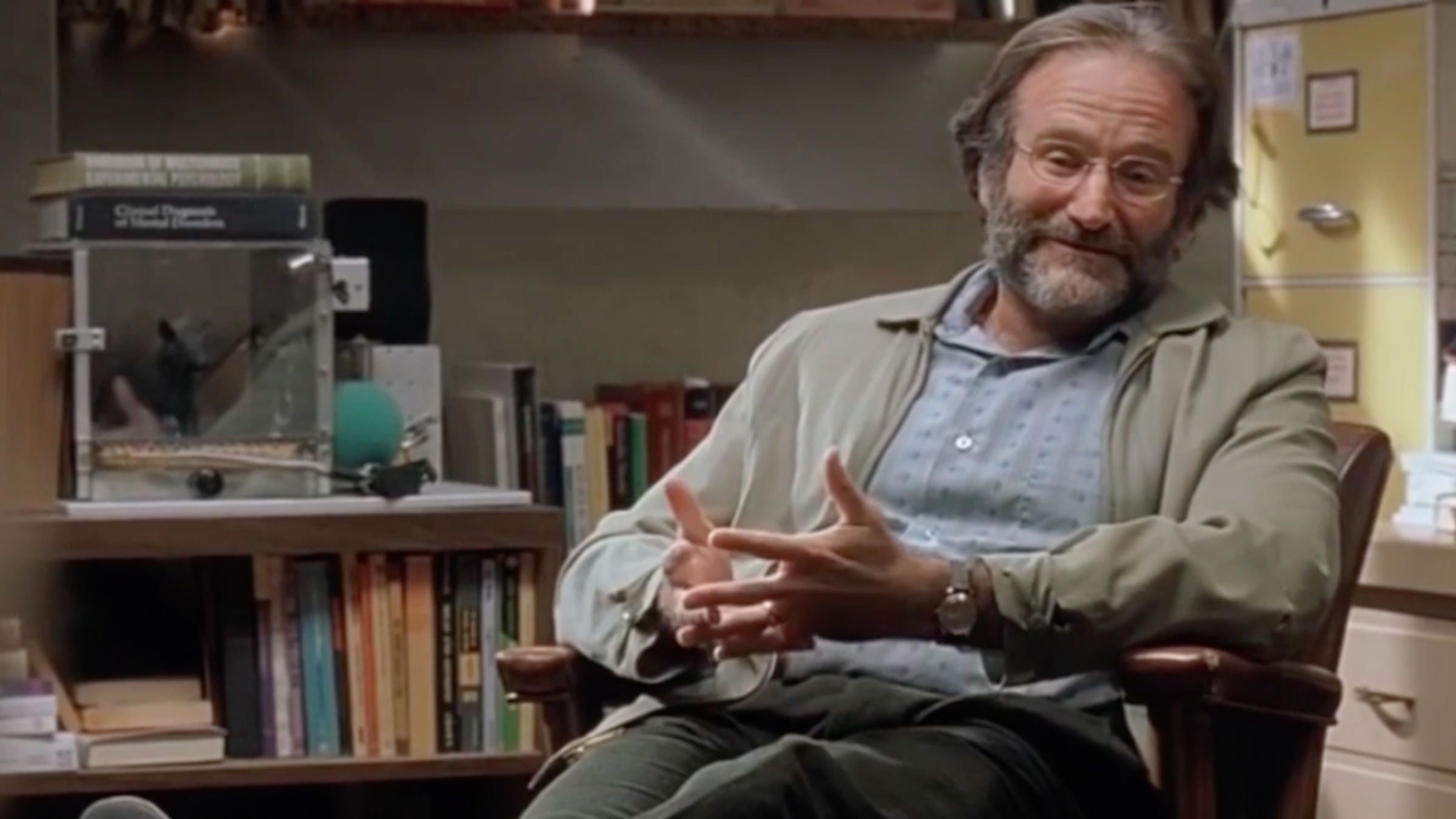 It should be no surprise that Robin Williams' performance in Good Will Hunting takes the #1 spot on this list. Williams is a scene-stealer in this film and delivers several tender moments as well as the greatest monologue of his career. He plays an intelligent psychiatrist, Sean, put to the task of getting through to a troubled genius, Will Hunting (Matt Damon). Williams is untouchable and delivers a touching, honest performance. Williams went on to win an Oscar for Best Supporting Actor.