Expensive "box car", hundred million watches & branded clothes


HAVE TALENT – HAVE MONEY!
On September 5, 2017, Doan Van Hau was named in the starting lineup by coach Mai Duc Chung in the match between Vietnam and Cambodia in the third qualifying round of the 2019 Asian Cup. This is the first appearance of the left-back born in 1999 for the national team and him. became the second youngest player in history to ever play for the "Golden Star Warriors" at the age of 18 years and 140 days. Van Hau's achievement is only inferior to former striker Phan Thanh Binh (16 years 331 days) and more than Cong Vinh and Van Quyen.
Playing for the Vietnamese team at such a young age has shown how talented Van Hau is!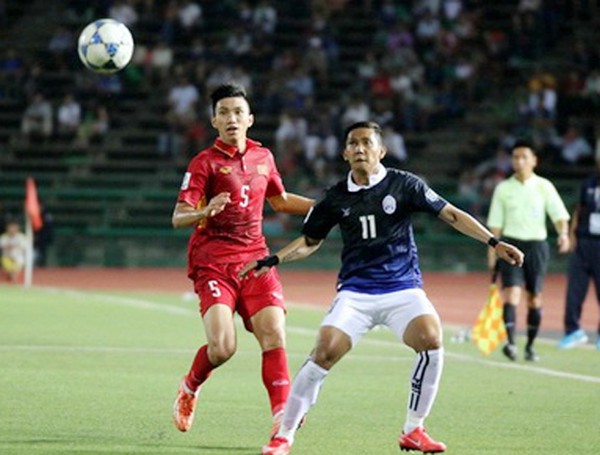 Van Hau in his first appearance for the national team in September 2017.
Going back in time to 2016, when Doan Van Hau was called up to the U19 team in Vietnam to attend the 2016 AFC U19 Championship when he was not yet 17 years old. This defender scored a beautiful goal against North Korea in the opening match, contributing to the historic journey to win tickets to the U20 World Cup for the first time in 2017.
Van Hau is one of the important factors of U23 Vietnam at the 2018 AFC U23 Championship, although he can only participate in 3 group matches (injury before the match against Iraq in the quarterfinals). He also played very well when the Vietnamese team won the AFF Cup 2018.
In 2019, Vietnam U23 won the 30th SEA Games after defeating Indonesia 3-0 in the Final. It was Van Hau who scored twice in that match, the other goal was by Hung Dung.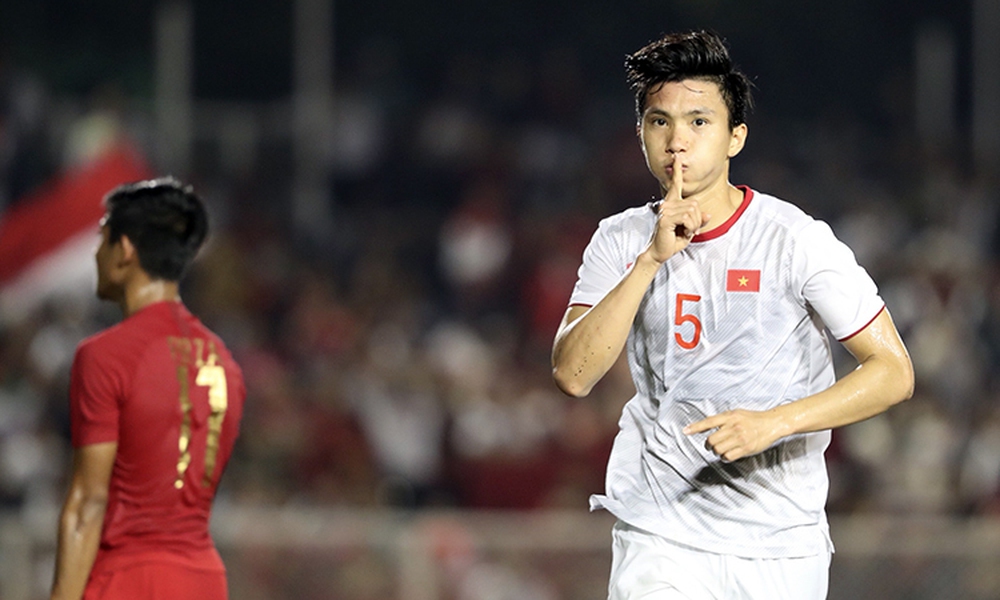 Van Hau scored a brace against Indonesia U23 in the 30th SEA Games final.
At club level, defender Thai Binh has won countless titles with Hanoi FC, from V.League, National Cup to Vietnam Super Cup. In September 2019, he had the honor to go to the Netherlands to play for SC Heerenveen on loan and accumulate a lot of valuable experience.
With his talent, Van Hau also received a commensurate salary. According to some sources, the income of the player surnamed Doan during his time playing in the Netherlands is up to 450,000 euros/year before tax (about 11.5 billion VND).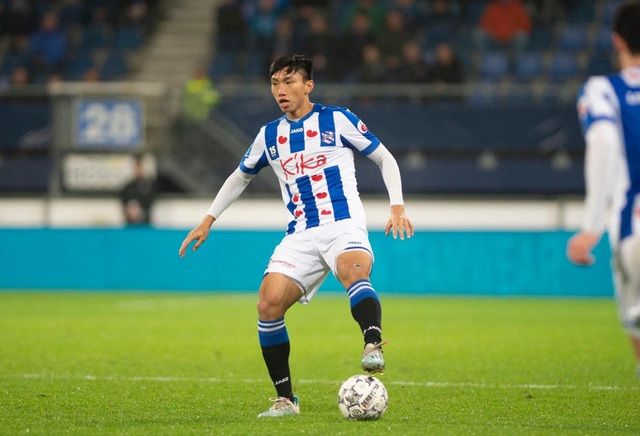 Van Hau plays in SC Heerenveen's shirt.
At the Hanoi Club, Van Hau's salary is not as high as in the Netherlands, but the main pay as well as bonus bonuses, according to a few reliable sources, are also very impressive. Besides, he has other sources of income besides football.
Tall, handsome and good at soccer, Doan Van Hau quickly became the idol of many people in Vietnam from young to old. Thanks to this, he has received sponsorship and advertising requests from many brands.
In addition, Thai Binh defender has just launched his own fashion brand called DVH HOUSE on his 23rd birthday (April 19, 2022) and is supported by many fans. Van Hau has shown his multi-talent, when in addition to good expertise, he also has the ability to start a successful business.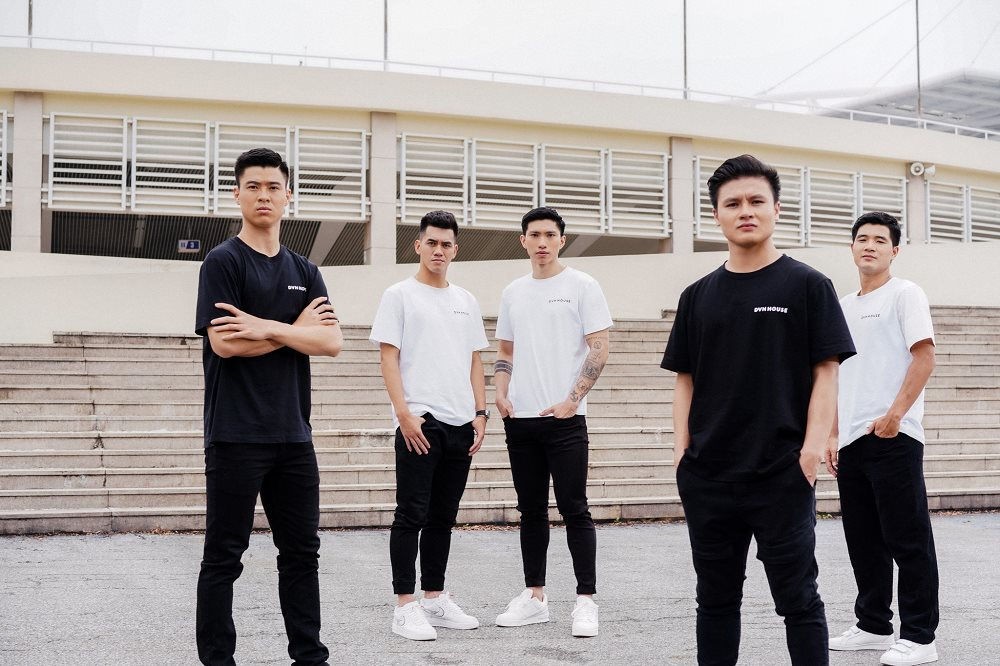 Van Hau promotes the DVH HOUSE brand with a group of "models" including Duy Manh, Tien Linh, Quang Hai, and Duc Chinh.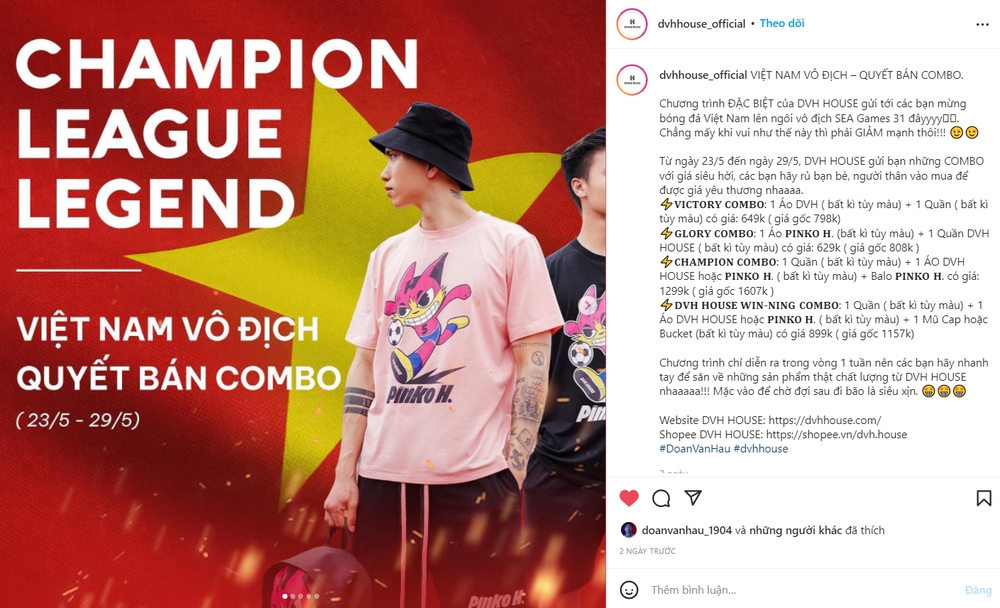 DVH HOUSE "catch the trend" to reduce clothing prices when U23 Vietnam won the 31st SEA Games.
FASHION STAR YOUNG
Perhaps the biggest asset of Doan Van Hau right now is the Mercedes-Benz GLC 300 4MATIC, which costs up to 2.4 billion VND. This is also the model that Quang Hai is using. Van Hau owned this "car" around October 2020 and it shows the playability of the player born in 1999.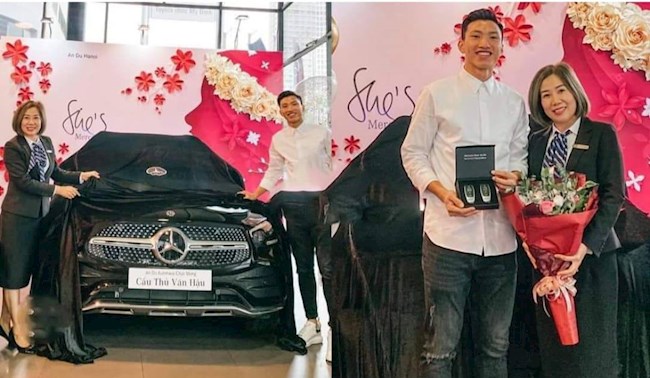 Doan Van Hau bought an expensive "car box" when he was in his twenties.
Van Hau is famous as a player with an impressive fashion sense, as he often wears expensive "suits" and shows his youth and dynamism.
At the beginning of 2020, Doan Van Hau put on a Gucci Worldwide Bomber shirt priced at 926 USD (nearly 21.5 million VND). In addition, the shoes that Van Hau uses are Chanel x Pharrell up to 2400 USD (55.6 million VND).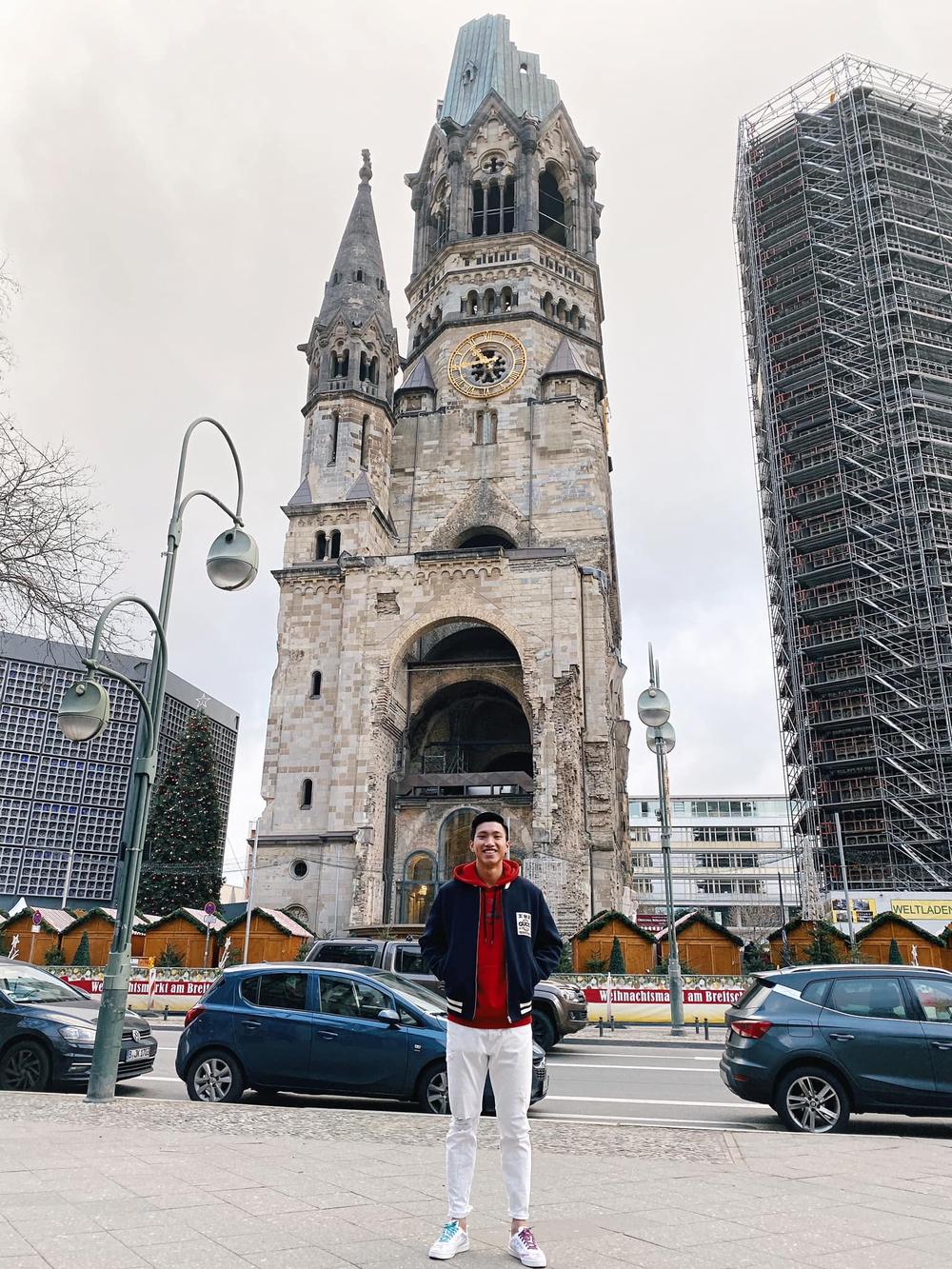 Van Hau is also a "brand" player with a youthful style.
Earlier at Christmas 2019, Doan Van Hau was stylish when he mixed a Moncler Templon jacket priced at 1970 USD (nearly 46 million VND) with a Louis Vuitton Toiletry Pouch bag priced at 920 USD (more than 21 million VND) and Alexander McQueen shoes. white price 550 USD (12.7 million VND).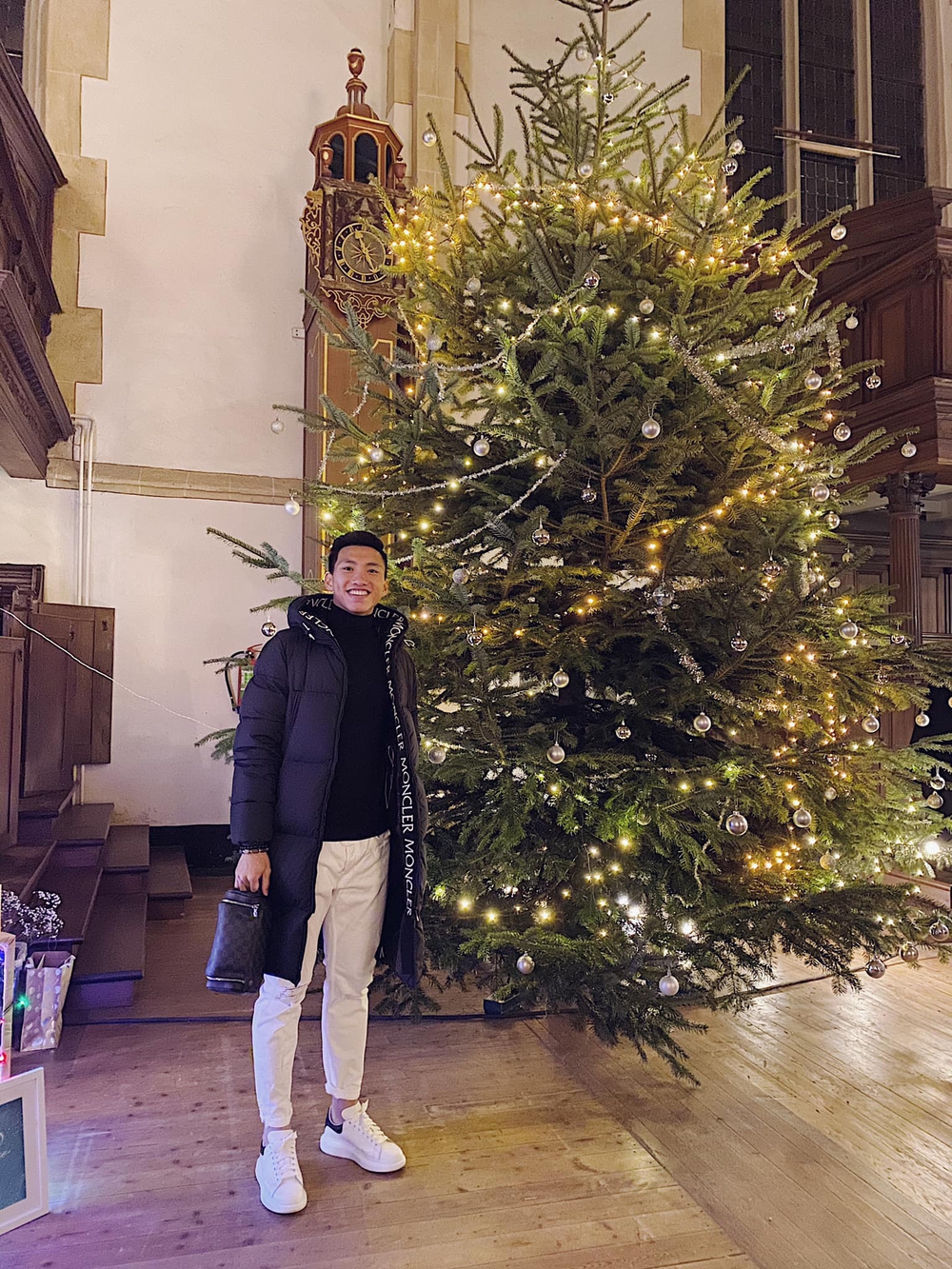 Beautiful appearance and wearing branded clothes, Doan Van Hau looks even more stylish.
The handsome defender wears a Gucci sweatshirt worth 746 USD (17.3 million VND) and 795 USD Balenciaga Speed ​​Trainer shoes (nearly 18.5 million VND).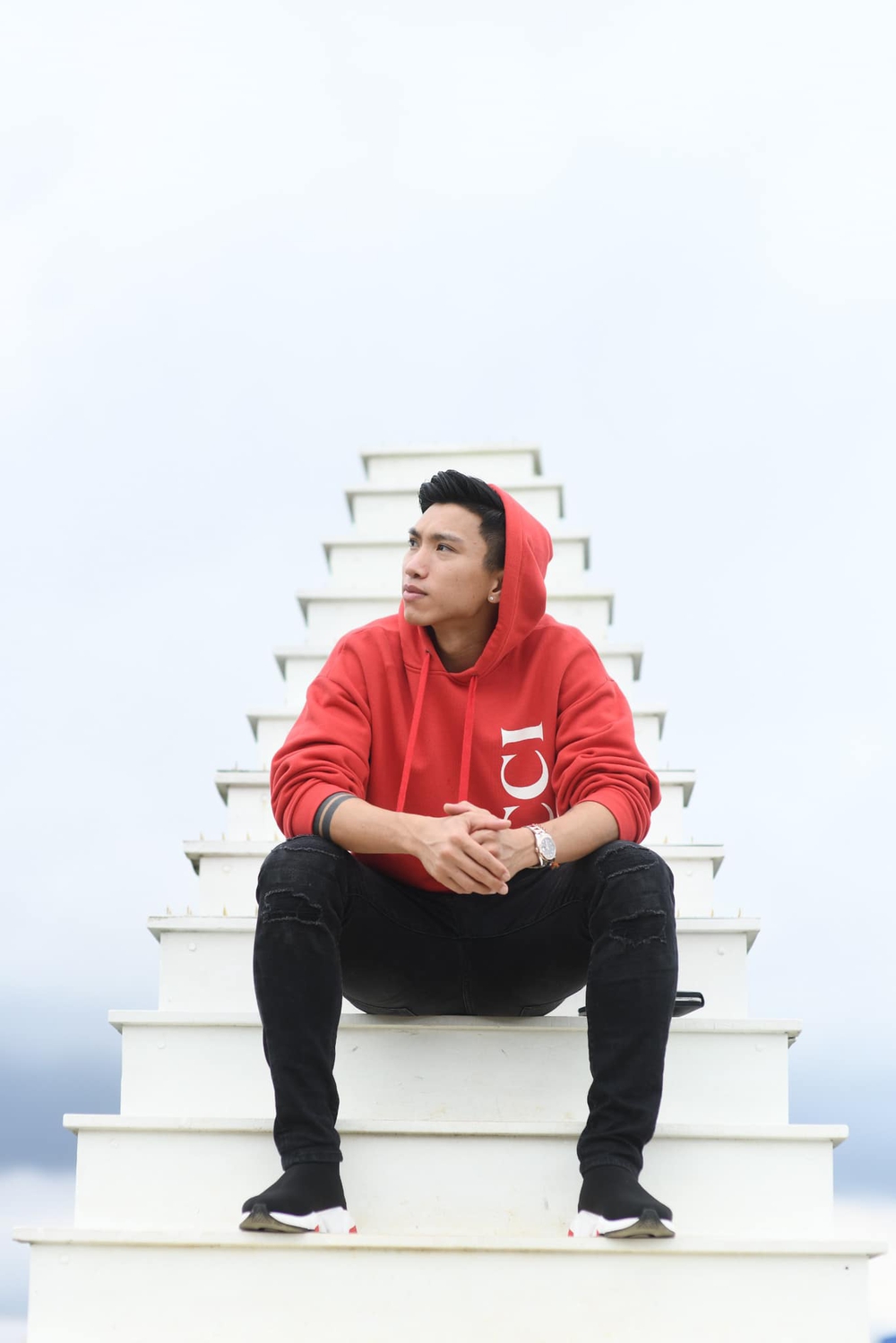 Van Hau does not spare money to spend on branded goods.
During Van Hau's time in the Netherlands, he appeared on the vlog of a Vietnamese youtuber. This person was extremely impressed by the shoe collection that Van Hau carried with him. The defender himself in 1999 also admitted that he was a lover of "playing shoes".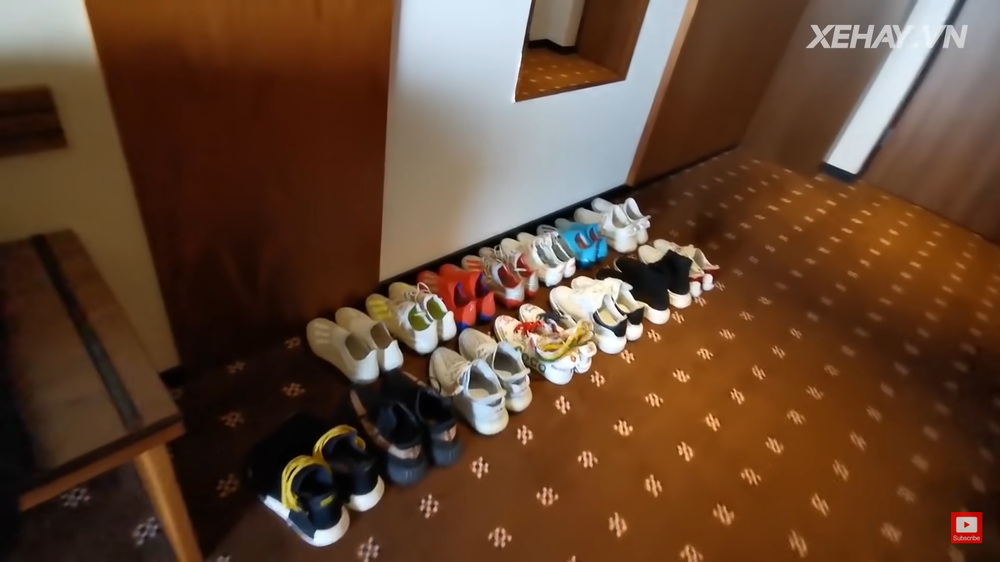 Part of Van Hau's shoe collection.
Besides trendy outfits and shoes, Van Hau also spends a lot of money on watches. Remember on the occasion this player appeared at the final night of Miss Vietnam 2020, he was extremely outstanding when wearing a Rolex Dayjust Chocolate Diamonds watch.
According to research, this Rolex costs up to 400 million VND. In addition, it has some special details such as a dial set with 10 sparkling diamonds, an all-stainless steel case combined with the exclusive 18k rose gold produced by Rolex, a notched rose gold bezel. The groove stands out against the steel case of the watch. This Rolex is equipped with the 3235 movement, has a power reserve of up to 70 hours along with outstanding water resistance to 100 meters.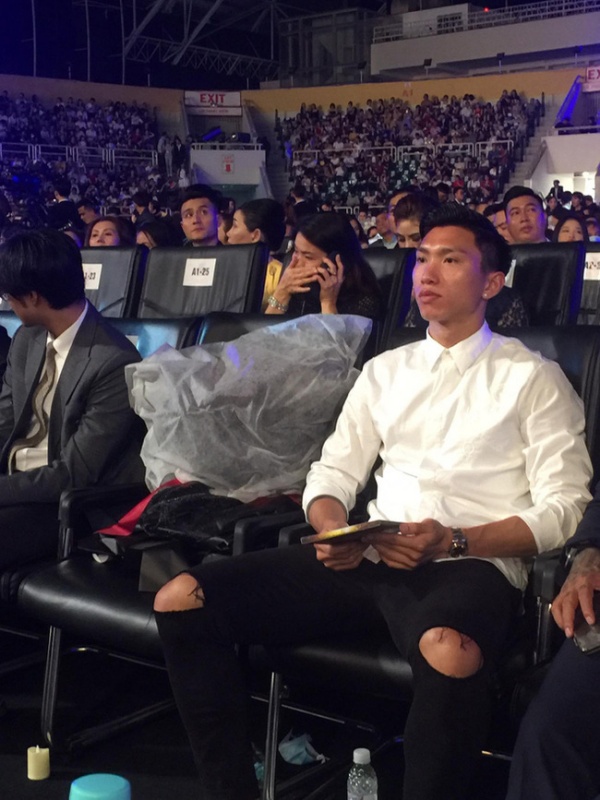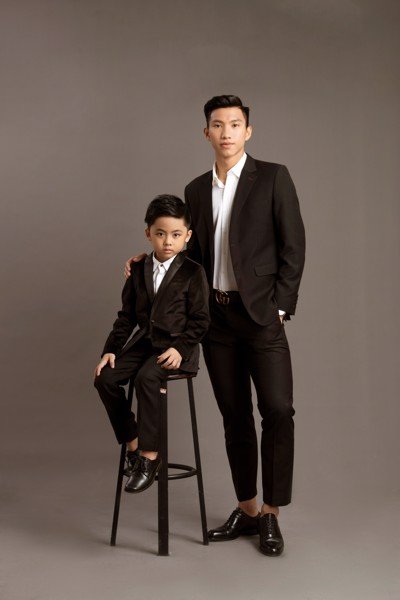 Van Hau was invited to model for fashion brand Adam Store.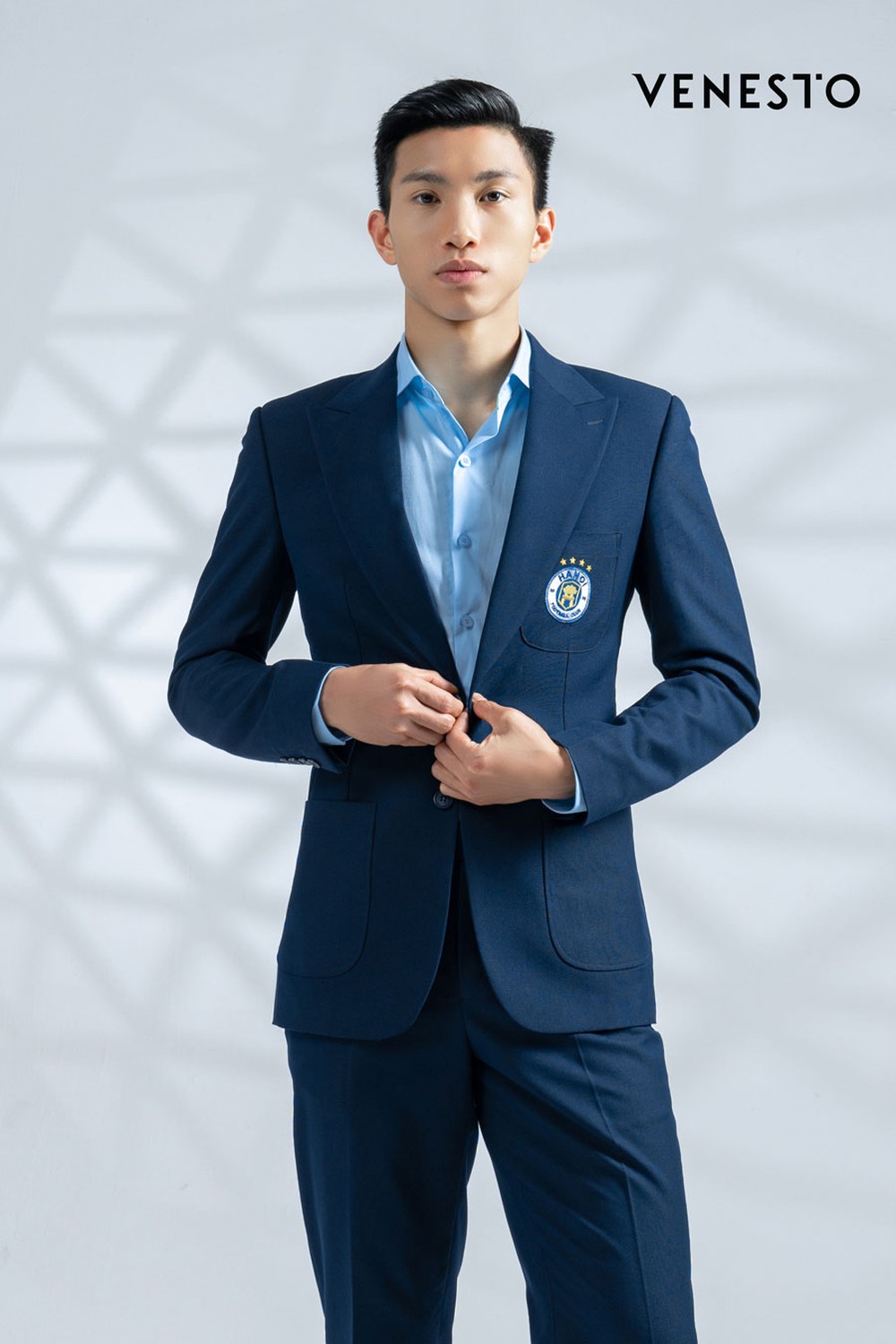 Venesto brand often invites Van Hau as a model.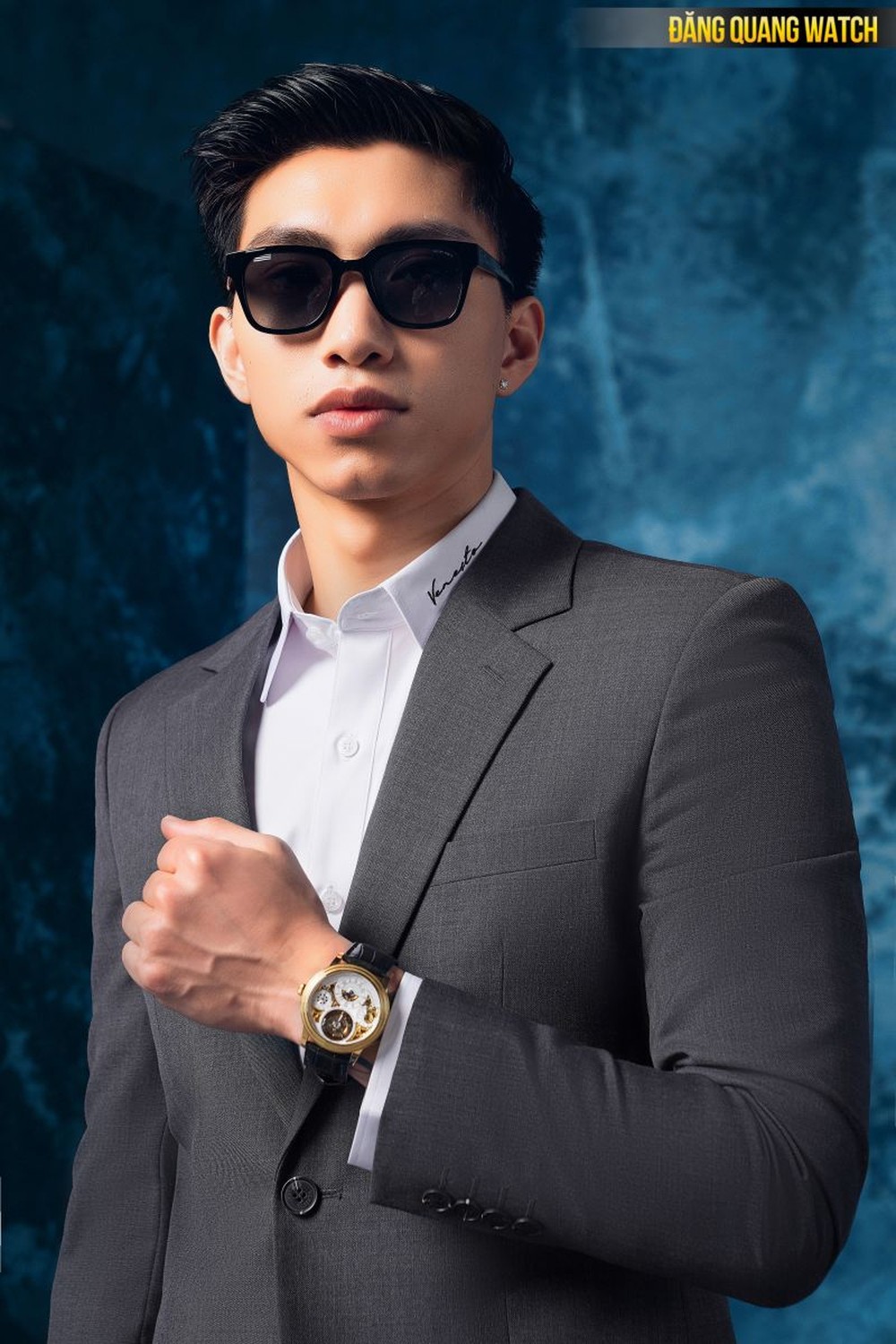 Dang Quang Watch also invited Van Hau as a model.
THE APPEARANCE OF BEAUTIFUL "Pink Balloons"
Talented, famous, rich are like that, so it's not too difficult to understand when Van Hau is surrounded by many beautiful "pink balls".
Previously, the player born in 1999 had a beautiful love affair with a girlfriend from the same hometown named Nguyen Hoang Anh. Hotgirl with the nickname "Snail" used to go to the Philippines to cheer for Van Hau in the final of the 30th SEA Games in 2019. However, the couple "went their separate ways" around June 2020.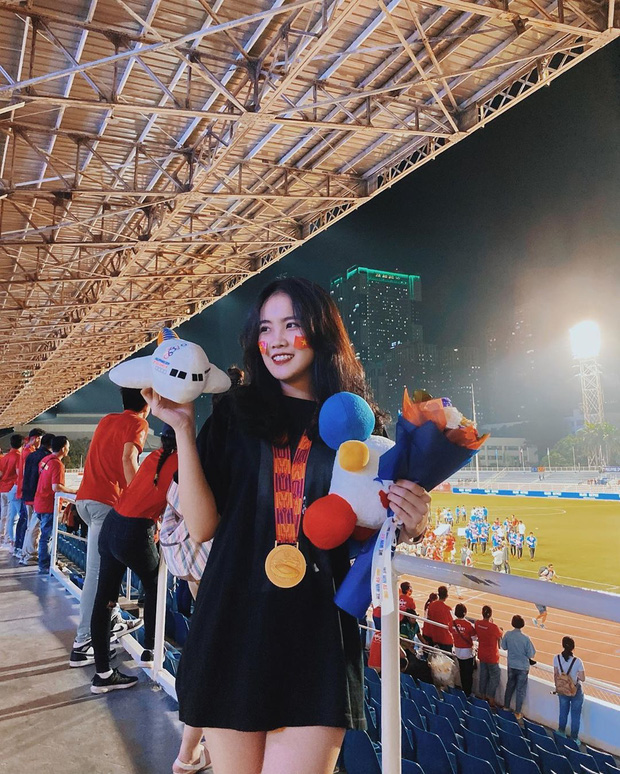 Hoang Anh was present in the stands of Rizal Memorial Stadium to support Van Hau in the final match of SEA Games 30.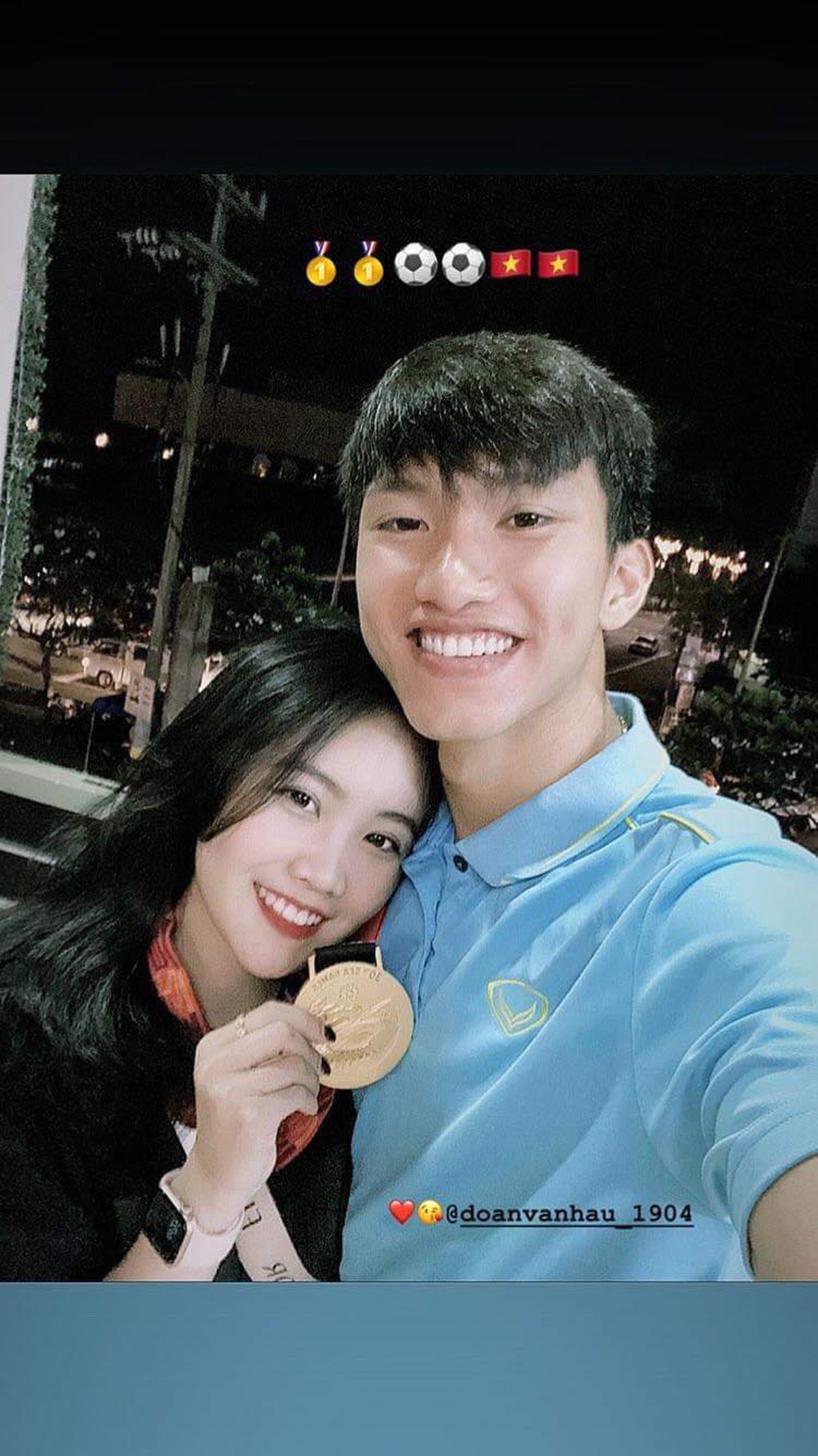 The warm days of Van Hau and Hoang Anh.
At the present time, Van Hau is said to have a relationship with the beautiful Doan Hai My. Hai My was in the top 10 of Miss Vietnam 2020.
Although they have never publicly dated in front of the media, it is not difficult to see romantic moments between Hai My and Van Hau when they both appeared at the wedding of midfielder Thanh Chung or recently. The wedding of goalkeeper Bui Tien Dung.
Hai My put on Van Hau's love shoulder at the wedding of midfielder Thanh Chung.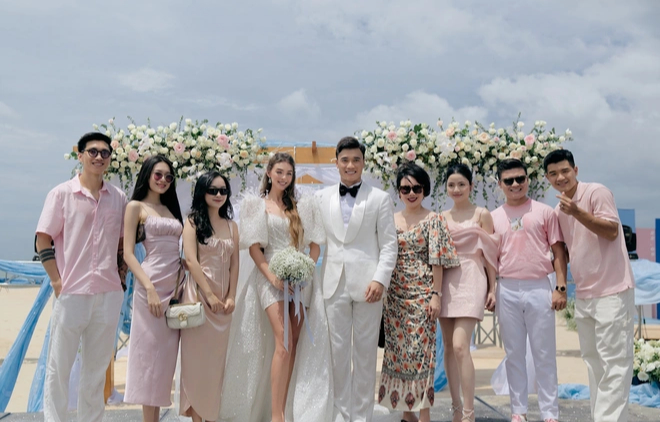 Van Hau and Doan Hai My (second from left) walked side by side at Bui Tien Dung's wedding.
At the moment, Van Hau is still racing with the same time to recover from the injury he got during a training session with Hanoi FC in October 2020. As expected, in July, when V.League 2022 returns, Van Hau can play on the field.
When the running steps sublimate again, Van Hau's career promises to be even more impressive and accompanied by a colorful life, full of joy both on and off the field. Wish the best will come to Doan Van Hau!
https://soha.vn/thu-choi-cua-doan-van-hau-xe-hop-dat-gia-dong-ho-tram-trieu-quan-ao-toan-hang-hieu-20220525011740501.htm




Expensive "box car", hundred million watches & branded clothes